EPP Insulated Pan Carrier Front Load Black
Able to fit full size food pans
Amazingly lightweight expanded polypropylene (EPP) material is extremely durable
Keeps your food at hot or cold food safe temperatures for up to four hours
Withstands heavy-duty use and abuse without being damaged
Provides professional grade quality without breaking your budget
Beveled door edges open and latch closed with ease
Door opens 270 degrees for complete access
Condensation barrier at the front of the carrier prevent it from dripping
$241.89 – $409.31
Code
Name
Price
Unit
Qty
16272
EPP Insulated Pan Carrier

$

409.31
EA
16278
Dolly To Suit

$

241.89
EA
Information
Specifics
Features
Enquiry
Reviews (0)
EPP Insulated Pan Carrier Front Load Black helps you effortlessly transport your hot or cold food to your next catered event.
Made using an innovative EPP material. This KH food carrier is ideal for new catering companies or delivery services.
Light enough to hold above your head with one hand. You will only need one person to carry this around, even when filled with food!
Effortlessly transport your hot or cold food to your next catered event with this black insulated food pan carrier.
The professional grade construction made from expanded polypropylene (EPP), an insulated material with a high level of durability.
This high-tech material is extremely lightweight while maintaining optimal impact and chemical resistance, and it is also eco-friendly.
Above all, it prevents workplace injuries from trying to carry those heavy plastic food carriers filled with your equally heavy supply of food.
Whether you deliver personal meals, deliver take-out, host a large event, or have a catering company.
The KH pan carrier black is the perfect way to transport and hold your delicious food without breaking your back or your budget
For larger catering events, this carrier is stackable, allowing for effortless transport in cars or vans.
EPP Insulated Pan Carrier are the perfect way to transport and hold your delicious food. Without breaking your back or your budget!
The insulation quality of this carrier is ideal for transporting your food for extended periods of time.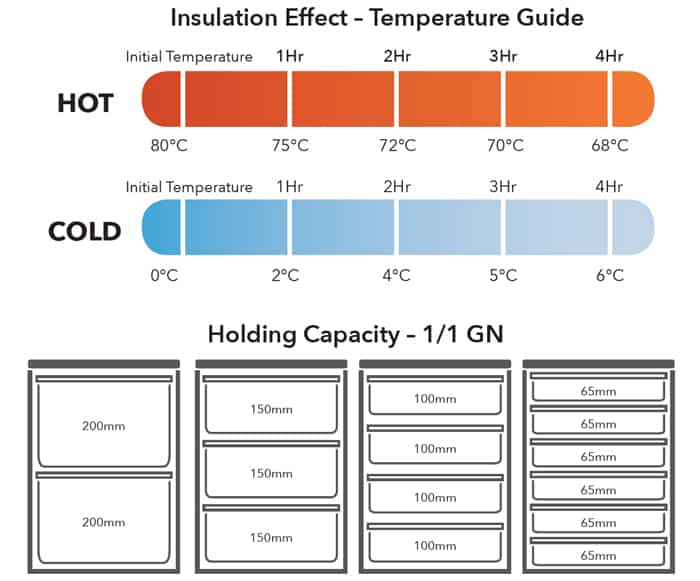 Brand
Jiwins
Material
EPP (Expanded Polypropelene)
Weight
4.5kg
Colour
Black
Dimension
640 x 435 x 630mm
Unit Fits / Capacity

Fits 12 Full Size x 25mm Deep
Fits 6 Full Size x 65mm Deep
Fits 4 Full Size x 100mm Deep
Fits 3 Full Size x 150mm Deep
Insulation Effect (HOT)
Initial Temperature: 80°C
After Ihr: 75°C
After 2hr: 72°C
After 3hr: 70°C
After 4hr: 68°C
Insulation Effect (COLD)
Initial Temperature: 0°C
After Ihr: 2°C
After 2hr: 4°C
After 3hr: 5°C
After 4hr: 6°C
Dishwasher Safe
Yes
Stackable
Yes
Power Type
Non-Electric
Handle Type
Moulded
Type
Food Pan Carrier
Able to fit full size food pans
Amazingly lightweight expanded polypropylene (EPP) material is extremely durable
Keeps your food at hot or cold food safe temperatures for up to four hours
Withstands heavy-duty use and abuse without being damaged
Provides professional grade quality without breaking your budget
Beveled door edges open and latch closed with ease
Door opens 270 degrees for complete access
Condensation barrier at the front of the carrier prevent it from dripping
Product Enquiry
Only logged in customers who have purchased this product may leave a review.